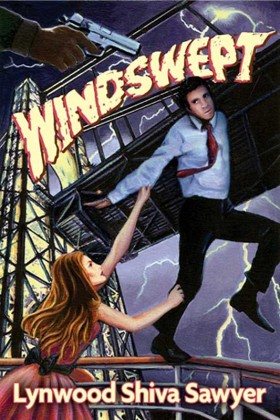 Windswept - A Romantic Thriller by Lynwood Shiva Sawyer
How far would you go to protect the only man whom you ever loved and who loved you in return? A man targeted for assassination by his employer, a voracious multinational corporation enraged by your lover's selfless action to protect an endangered island tribe.
What boundaries would you cross?
Which of your most cherished scruples would you violate to save his life?
Trapped in a life-or-death struggle against an adversary with endless patience, seeming omniscience and limitless funds, New Yorker Meghan Joyce is about to find out.
You can find Windswept at:
Waterstones.com
Amazon.com
BarnesandNoble.com
Or order it from your local bookstore!
(Starring Jonathan Hansler & Kara Gilligan, Directed by Linzy Attenborough)
"…a thrilling romantic, tension-filled ride that takes the nail-biting reader from lofty skyscrapers to an S&M dungeon to a hide-out in Queens. Read it for the goose bumps and the sly humor. You won't regret it."
~ Cynthia Webb (No Daughter of the South)
"I loved the raw emotional intensity in this novel, a woman's fierce passion for the man she loves. Windswept is a real page-turner, full of surprises."
~ Raechel Sands (The Girl Who Fell Series)
"Sawyer sets the reader dead center in a dark world where love and tenacity struggle against corporate power and deception twists neither they nor the reader could have ever anticipated."
~ Glynn Marsh Alam (Luanne Fogarty Mysteries)
"Meghan Joyce has struggled all her life, but nothing has prepared her for the perils she and Thomas Lockhart are about to face. Windswept's scary twists and turns had me hooked from the first to the very last page. Exhilarating."
~ Anjali Alford (Consequences; Co-Founder Collab Writers)
Book Design by D. Bass / Original Oil Painting on Cover by Nad Wolinska (All rights reserved) Jacket Design by Richard Amari / Photo of New York Skyline by Reynaldo #brigworkz Brigantty (from Pexels) / Photo Enhancement by Becque Olson