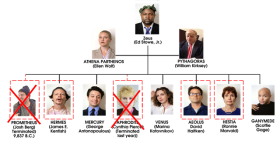 EQ Films presents the JSenko Production - Alex Klymko Production of A Vág Film written by Lynwood Shiva Sawyer
After 10,000 years performing the same jobs, they had become comfortably ensconced in their headquarters high atop a modern skyscraper – Olympus Towers. Then, without warning, the unfortunate Deities suddenly had to face pressing issues they'd never before confronted.
Watch, laugh and wince as the former Masters of the Universe meet their match – a megalithic multinational corporation.
Be consoled (especially you who toil at the mercy of far away corporate overlords) in the knowledge that even those who once ruled the world can be laid off.
<Scroll down for Film Links>
| | | | |
| --- | --- | --- | --- |
| lMDB | Trailer | Screener with subtitles | For more information |